About Us
Our mission here at LaceyField is that we are 'Busy Being Brilliant'. This means that when you visit us at our academies you will see all of our children and staff using our BEEhaviours for learning. We know that to be successful in all that we do we need to;
Be brave
Be kind
Be in charge of me
Be grateful
Be curious
Be on the team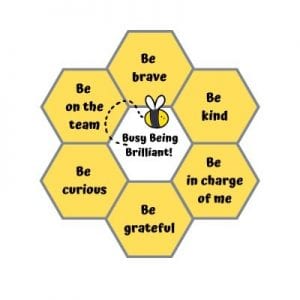 At our academies, we are committed to the education and safeguarding of the children in our care. We know that children need to be happy in order to be effective learners. We pride ourselves on our positive approach to learning and achievement. We believe in a growth mindset. This starts with our high-quality curriculum and is enhanced by our incredible enrichment opportunities that allow all of our children to discover their talents.
Our curriculum and provision for education is based on current research in educational neuroscience, expert pedagogy and psychology for learning. We believe in an ethical education in which children make good choices because they know they are morally right, not for reward or to avoid punishment. We are striving to be a restorative school. Our Care Team work relentlessly to ensure that our most vulnerable children are included in every aspect of school life. We work with the community and families because we know that it takes a village to raise the next generation to be the best they can be. Education at Laceyfield isn't just about being brilliant now, it is to enable our staff and young people to be brilliant throughout their lives.
Enjoy your visit to our website and seeing all of the amazing things that our teachers and children get up to!
What people think about LaceyField Louth?
"A beautiful balance of love and nurture mixed with high expectation and learning output" Mark Wilson 

" A clear sense of coherence, continuity, consistency and connectedness." Mark Wilson 

"This is definitely a warm school – you can feel it is as soon as you walk in, and as you walk around."  Hywel Roberts 
"I'm really pleased with Lacey Gardens and have noticed a distinct difference in my child's attitude to learning and school in general. ….I'm happy with the topics and learning approach. The relationship between staff and children is lovely" Parent
"My child's teacher has been a significant, positive influence in helping him to feel content, confident and motivated again at school. He has made such an effort to communicate with me so I can understand how I can support at home. He has established a great relationship with him that I know my son really values." Parent 
"…it is lovely that the children get the praise they deserve for their achievements." Parent
"…an amazing atmosphere. All the children should be well proud of themselves." Parent
"It was lovely to see the positivity, enthusiasm and happiness…" Parent

"I like how non-judgemental and supportive the staff have been. The staff have gone above and beyond to help and support me with the challenges of lockdown." Parent 

"Thank you will never be good enough to describe the positive impact you all have on our Louth community." Parent 

"We couldn't be happier with the school choice we've made. We love it and the community is like a big family." Parent